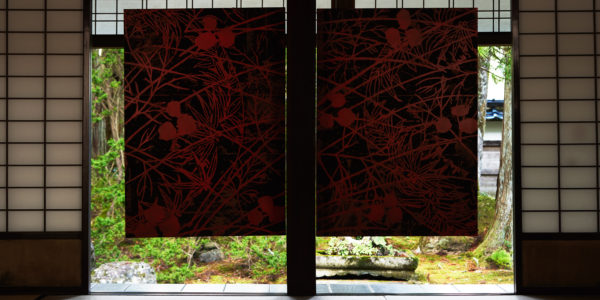 GHOST LINKS
Charles Munka & WAJIMA KIRIMOTO
---
With Charles Munka and Kohei Kirimoto, we exhibited ten pieces of craft and art at The Nakatani, a house traditionally known to belong to the chief of the Okunoto region during the shogunate era. Charles Munka is a French artist who lives on Sado Island in Niigata Prefecture. Kohei Kirimoto is the 8th generation craftsman at Wajima Kirimoto, located in Wajima City, Ishikawa Prefecture.
On four canvases primed and top-coated with lacquer by Kirimoto, Munka "paints, sticks, cuts, and peels" using acrylic paint and cutting sheets. The mixed methods that transcend boundaries of land and rules have resulted in works that produce unique textures and reflections of the light. We created eight of these pieces of art including ones that were lacquered by Kirimoto and others which were painted solely with acrylic paint by Munka.
Munka found two buoys on the coast of Sado Island where he lives, and brought them over to Wajima. This is how the two created the rest of the works.
One of these was made by lacquering black and vermillion over 20 bowls and polishing them for a period of more than six months. The other is a work in which the irregular grooves and scratches on the surface of the buoy undergo "kintsugi", the act of repairing ceramics using lacquer mixed with powdered and liquid gold.
佐渡島在住のフランス人アーティストのシャルル・ムンカと、石川県・輪島市の輪島キリモト8代目の桐本滉平と共に10点のアート作品を制作し、奥能登天領庄屋中谷家でエキシビションを行いました。

キリモトが漆を用いて下地塗りと上塗りを施した4枚のキャンバス地に、ムンカがアクリル塗料とカッティングシートを駆使して「塗る、貼る、切る、剥がす」。土地とルールの境界線を超えて混ざり合った手法が、独特の質感や光の反射を生む作品に仕上がりました。キリモトが漆塗りを施した作品とムンカがアクリル塗料のみで制作した作品、合わせて8点を制作しました。

新潟県佐渡島を拠点とするムンカが、佐渡の海岸で拾った二つのブイ(浮標)を輪島に持ち込み2点の作品を制作しました。
一つは椀にして約20個分もの黒漆と朱漆を半年をかけて塗り重ねて磨き上げた作品。そしてもう一つは、ブイの表面にある不規則な溝や傷に「金継ぎ」を施した作品です。