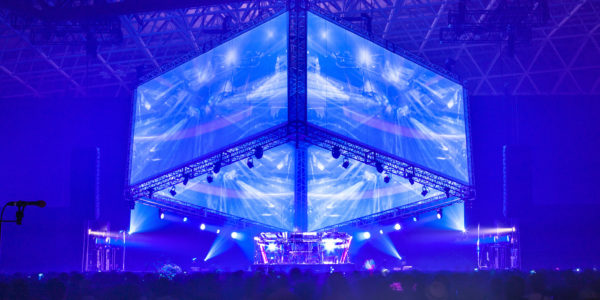 BOX STAGE
FREEDOMMUNE 0 <ZERO> ONE THOUSAND
---
Stage and lighting for the 10,000-visitor free festival "FREEDOMMUNE 0 <ZERO> ONE THOUSAND", organized by contemporary artist Naohiro Ukawa, which was held at Makuhari Messe in Chiba in August 2012.
This "BOX STAGE" is a three-dimensional version of the service screen, usually set up next to the stage. The images projected on the box are projected on both the inside and the outside of the box and can be seen from anywhere on the floor. The stage does stand in the center of the floor, but in front of it.
The festival reached16,000 visitors and nearly 720,000 online viewers, with a charity event held for the 2011 Great East Japan Earthquake.
現代美術家の宇川直宏が主催した1万人規模のフリーフェスティバル「FREEDOMMUNE 0 <ZERO> ONE THOUSAND」でのステージ・照明演出を担当。2012年8月に千葉・幕張メッセで開催。
この「BOX STAGE」は、通常はステージの横に設置されるサービススクリーンを立体化したもの。ボックスに投影される映像はボックスの内側、外側両面に写り、フロアのどこにいても見られる構造としました。なお、ステージはフロア中央ではなく前方に配置しています。
本フェスティバルは、16000人の来場者とストリーミング配信もされ約72万ものビューアを誇りました。東日本大震災への募金も行われました。